Learn why you need a Google My Business profile, and how to set up Google My Business for your company.
Google My Business, also referred to as GMB, is a must-have for any company, and is especially important for local businesses.
What is Google My Business?
Google My Business is a profile made on Google that makes it easy for people to find your business and details about it, such as name, location, hours, website, phone number, and reviews.
Google defines Google My Business as "a free and easy-to-use tool for businesses and organizations to manage their online presence across Google, including Search and maps. By verifying and editing your business information, you can both help customers find you and tell them the story of your business."
Why do I need a Google My Business profile?
Having a GMB profile shows your business is reputable and trustworthy. It also makes it easier for people to find your business, whether they are aware of it or not.
For both small business owners and local businesses that care about their SEO efforts, having a Google My Business profile is a must. To show up in Google search results for local SEO, you must be present on Google.
If a potential customer was to type in "pest control near me," your business will only show up as a suggestion if you have a properly set up Google My Business profile. Otherwise, the searcher will only see your competitors, and you are missing out on a possible new customer.
By having a GMB profile, you are in control of the message your business portrays and the information that users will find about it. You can also gain a review presence on Google My Business, and respond to reviews directly from the platform.
People can easily find your business and get directions to your business through your GMB profile. By ensuring you have the correct address in your profile, users can see where you are located and get directions straight from Google Maps with one click.
Lastly, having a GMB listing will give you insights such as what customers searched that brought them to your business, where they came from, and how many called you directly from your profile.
How do I Set Up a Google My Business profile?
Now let's get down to the step-by-step to create a Google My Business profile.
---
1. Create a Google Account for Your Business.
To create a new Google account, go to your Google Account. If you are currently signed in to your personal account, click on your account icon, and add another account.



If you are already signed into the Google Account that you want to be associated with your GMB profile, skip to step 2.
---
2. Find or Add Your Business Name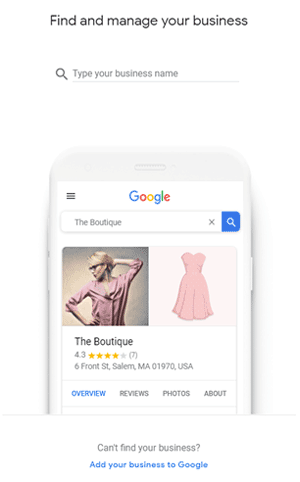 To create your account, go to the Google Business webpage and click "Manage Now." Search for your business to see if it already exists on Google, or click on "Add your business to Google" if it does not show up.
Note: If the name of your business is similar to another business nearby, make sure that you do not accidentally select their business name that may auto-populate.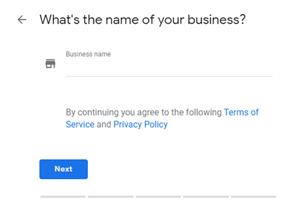 If your business does not have a profile yet, add the name of your business as it should appear in your Google My Business Profile.
---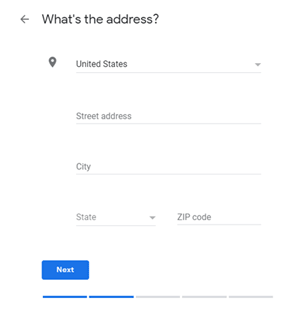 3. Add Your Business Address
Click "yes" to add a location and enter your business address so that it can connect to Google Maps and Search results, ensuring your company will appear in local search results.
---
4. Add Your Service Area (Service-Based Businesses Only)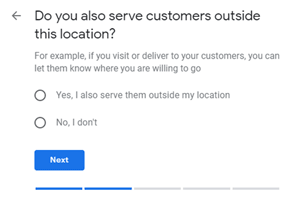 If you deliver or bring services to your customers instead of them coming to your business for their needs, select "Yes" to add your service area.
Select "No" and skip this step if people come to your business location for their sales or service needs.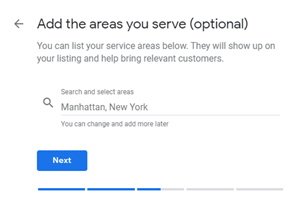 Once you select "Yes," you will have to add cities that are within your service area to make sure that people searching from there will discover your business. You can add as many areas as you'd like before clicking "Next."
---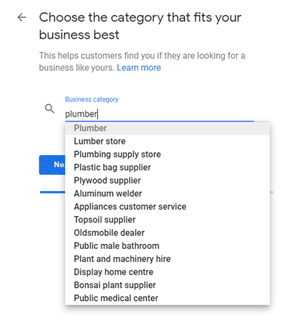 5. Choose Your Business Category
Add the category that you think best fits your business. You can search a few terms to see what's available and discover which you think will work well for you. This affects search terms that your business can appear on Google for, so make sure that it is relevant. You can always update this later on, but it is best to choose the closest category to your business.
---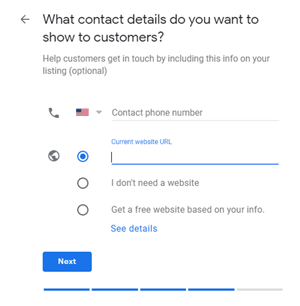 6. Add Your Business Contact Details
Although Google lists this step as optional, it is very important to enable customers to contact you and find your website. Add your main business phone number and website in this step.
Note: You will want to add a call tracking number to your Google My Business profile once your setup is complete.
---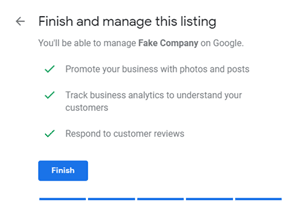 7. Verify Your Google My Business Account
Congratulations – you can now finalize your Google My Business Account once you are finished!
---
Now, you have a few options when it comes to verifying your business:
• Verify by mail: Google will send you a postcard with a code you will input later to your address on file with the business.
• Verify by phone (available for select businesses): If you are eligible for phone verification, you can select this option which will call your phone number and give you your code to enter.
• Verify by email (available for select businesses): If you are able to verify by email, you can click this option to have Google send you an email with your code to verify.
• Instantly verify (available for select businesses): This option can only appear if you already have a GMB profile and are simply adding a new location.
No matter which option you choose, it is imperative that you finish the verification process for your Google My Business listing to be complete.
How do I optimize my Google My Business Profile?
Now that you've successfully set up your GMB profile, you don't want to stop there. Next, you want to add additional details to make your business really stand out.
Here are a few best practices to do in order to make your GMB truly complete.
• Add photos and/or videos. Having visual aids for your business will make it stand out more and seem more legitimate to customers. You can add photos of the outside of your business, group employee shots, and any other relevant images.
• Add a description of your business. A few sentences should be enough to give consumers insight into what exactly your business does and how it can help them.
• Add your business logo. Make sure your brand stands out! Add your logo to appear on your profile.
• Add business details. Make sure to update your business hours, location, contact information, and description to be as precise as possible. To track the calls you receive from your GMB profile, you will want to add a tracking number. Find the step-by-step details to add a call tracking number to Google My Business here.
• Start requesting and managing your Google Reviews. Now that you have a GMB profile, customers can leave reviews to help you gain a great online reputation, which is vital to gain new customers and have more people that are searching for your services to choose you over a competitor. Make sure you respond not only to the positive reviews you receive, but especially the negative reviews. Here are 4 easy steps to respond to any negative review.
Discover more step-by-step tips to optimize your Google My Business Profile
Keep Bettering Your Business With CallSource
Setting up a Google My Business listing is one important step to enable your business for success. CallSource is here to help you along the rest of your journey, from tracking your marketing attribution to helping coach your employees to enable more sales for your company.
Subscribe to our blog for more insights like these, and speak to a representative to learn more about how we can help your business with real data insights and the best customer service around.