Learn about car-buyers' digital journey and how it's changed the game for auto dealers.
It's no secret that the internet and digital devices are important for today's consumers. It has changed the way people buy, and has especially had an impact on car-buyer's journey to purchasing a vehicle.
Dealers cannot ignore digital formats as a vital piece of their marketing and brand recognition for customers. Without a great digital management program in place, dealers won't have a great chance of even being considered by most car shoppers.
Learn more about digital management with your free copy of our Automotive Digital Management Guide.
J.D. Power recently released their U.S. New Autoshopper (NAS) StudySM in which they deliver insights into today's consumers' customer journey to car dealerships.
Below are some interesting insights from this study that dealers need to take into consideration for the rest of 2019, and when planning for 2020.
Path to Purchase
The time of from when internet shoppers start looking online to purchase a vehicle until they actually purchase a vehicle is 12.6 weeks.
Premium and Pickup buyers have a slightly larger path to purchase, at about 14-15 weeks.
Lease buyers move the quickest through the path to purchase, buying just after 10 weeks.
The path to purchase increases as age decreases – so expect Gen Y/Z to take the longest when buying a new vehicle.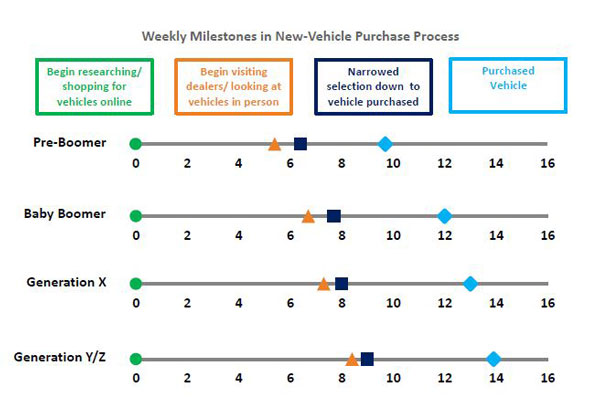 Knowledge of make/model to purchase
58% of internet shoppers enter the shopping process knowing the make or model they want to buy.

This has increased from 49% of buyers knowing the car they wanted to buy in 2013.

Only 2.4 models are considered when buyers first begin visiting dealers, including the model purchased.
Dealers' websites are the most-common way that new buyers discover the vehicle that they want to purchase, followed by having previously owned the model they are looking to purchase.
Devices used and website visits
Shoppers continue to use smartphones for their automotive shopping, and over half of car buyers are internet shopping use their smartphone when looking to purchase a vehicle.
14% of automotive internet shoppers don't ever use a computer (desktop or laptop) while shopping.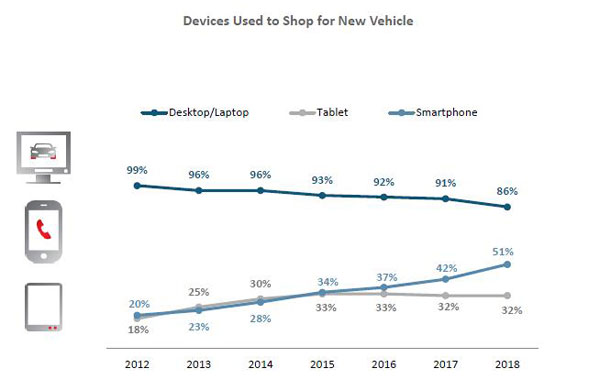 Fewer sites are visited over time as more and more buyers know the make/model of the vehicle they want to purchase from the onset.

On average, internet shoppers visited 3.7 manufacturer websites, 2.4 dealer websites and 2.6 independent websites in 2018.

Of all the websites visited, independent sites are named "most useful," (36%) followed by the OEM site (32%).
Shopping content accessed
Almost three-quarters (73%) of shoppers look at vehicle pricing, and 71% access model information.
Search inventory, photo galleries, and vehicle comparisons also remain in the top 5 pieces of content accessed by shoppers.
"Vehicle pricing, model information, search inventory and photo galleries continue to be the most used content on auto shopping sites."

– J.D. Power U.S. New Autoshopper Study
Dealership contact
A phone call remains the second-most-common initial form of contact, coming in only behind walk-ins.
29% of buyers initially contact dealerships in a digital format:

Dealer website
Email
Requested quote online
Online chat
Text message
Facebook page
Track your consumers' online journeys with EveryLead
CallSource has the most powerful automotive dashboard in the industry. Our robust, non-cookie based web analytics allows you to separately track sales, parts, and service calls also while correctly attributing your online and offline sources so you can spend your money efficiently on your best customers.
CallSource's Digital Management Platform, EveryLead, is the only platform that shows calls, texts, chats, and web leads all in a single, real-time dashboard. Schedule a time to talk to a specialist about EveryLead today, or give us a call at
833-EVERYLEAD.
Track the complete customer journey and follow consumers cross-domain and cross-device with the most robust multi-touch attribution solution out there.

Learn about all of your leads with EveryLead.
Reference: https://www.jdpower.com/business/resource/jd-power-new-autoshopper-study