Learn some real call tracking facts and how call tracking works, breaking myths and out-of-date information for call tracking services.
Call tracking software is a must for any smart marketer who wants to track both offline and online attribution.
While there are many call tracking services out there, most are pretty similar at their core. Call tracking requires placing unique call tracking numbers on all of your marketing sources so that you can track and record calls, and obtain additional call tracking metrics to help make smart, data-based marketing decisions.
If you've heard of call tracking (and perhaps even if you already use it!), you may have heard some "facts" about this service that are not true. Read below for some myths that you've probably heard about call tracking services, and what the truth really is.
1. Call tracking is a new technology
This myth may depend on your definition of new or old, but call tracking has been around for quite some time. In fact, it was invented by yours truly, CallSource, in 1991.
As happens with any useful technology, other companies have come around to create their own call tracking software more recently in the past 5-10 years, which may be why it seems to be a somewhat "newer" technology.
2. Call tracking ruins your SEO
While this had more truth to it many years ago than it does now, call tracking – especially when used correctly – can help your SEO efforts. SEO tactics are ever-changing, and call tracking has also evolved.
Call tracking helps you know your customers' journey to your landing page and gives you insights about keywords that convert leads. It can also help in A/B testing. Call tracking is a reliable indicator of whether your traffic is converting because it ties phone calls to your website.
With dynamic number insertion, which only needs one line of script to be installed on your website, you can follow the complete customer journey, online to offline.
3. Call tracking is only useful for offline attribution
While call tracking was invented for offline marketing attribution (especially since the internet wasn't really quite a "thing" yet in 1991 for most businesses) and is still used to track offline advertisements' success, the technology now exists to tie your online and offline marketing attribution to truly close the loop with DNI as mentioned above.
Call tracking is a useful tool for online to offline (O2O) attribution tracking, as well as for strictly offline or online tracking too.
Discover more out about the only solution that can track every call, chat, text, and web visit all in one real-time dashboard.
4. Your phone number is your brand – and customers won't like seeing different numbers to reach you from different advertisements
While we do recommend custom vanity phone numbers to help with business branding purposes, let's be honest – how many of your customers actually have your phone number memorized or would notice if you had different phone numbers on different advertising pieces?
We're in the 21st century. Most people will find a phone number online or whatever marketing piece they've received, and then dial that number. They aren't looking at all of your listings to compare what phone numbers are listed – they are just calling when they find your number because they have a need, then and there.
5. No one wants to dial a toll-free number to reach my business
False.
Over half (58%) of consumers prefer to dial an 800 number vs. a local number to reach a business.1
Even local businesses can benefit from toll-free numbers on some of their marketing materials. Use a toll-free vanity number instead of a local number and see your call rates sky-rocket as well, as they are much easier for memory recall than a random array of digits.
How Do Customers Neurologically Remember a Vanity Number?
Still not sure if you'd want to use toll-free numbers instead of local numbers on your ads? No problem! You can use local numbers for call tracking, too. You can port in any existing numbers you have, or assign new local numbers from your call tracking provider's hub of available numbers.
6. I have to replace all of my phone numbers to implement call tracking
While you may assign new numbers to some of your advertisements to reap the benefits of call tracking services, it is not necessary.
As mentioned, you can port in your existing numbers to your call tracking provider. A second, CallSource-specific feature is the ability to provide metrics on any phone numbers that already have call recording features on them without even needing to port them out from your current carrier.
Contact a CallSource representative to learn more about gaining the benefits of call tracking on your current phone numbers.
7. Call tracking is unreliable
As far as the standard, basic level of call tracking without any additional analytics, call tracking can't get any more straight-forward and reliable. A consumer sees your phone number, dials it, and your call tracking reporting will display the number they called in from and the ad source that is tied to that number.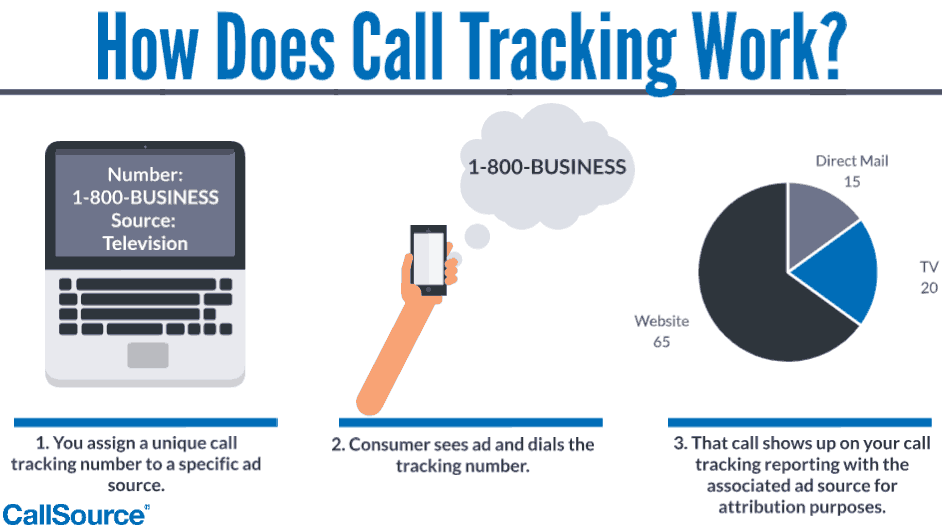 Call tracking is far more reliable than having call handlers try to remember to ask callers how they heard about your business on every call, and expecting callers to accurately recall and tell you how they heard about you.
Although most call tracking services utilize AI and speech analytics to deliver their call analyses, CallSource, the inventors of call tracking, uses real human analysts to listen to calls and deliver robust and accurate data for truly reliable analytics – over 96% accuracy, in fact.
While speech analytics is useful for a number of things, it is disappointingly incapable of the accuracy required to grade an employee's telephone skills fairly.
With advances in machine learning, speech analytics may one day overcome background noise and mobile phone audio issues, and understand the complexities of human conversations; homonyms, accents, and idiomatic expressions. For the present, however, expert, well-trained, analysts are still needed for accurate results – so that is what CallSource's call data is based on.
Want to learn more about call tracking?
Now that you know the facts about call tracking, it's time to implement this service for your appointment-based business.
Click here to have someone reach out to you, or contact a representative today at 888.788.0123 to learn more.