Geographical routing can help your business reach many customers with one phone number.
Geographical call routing, usually called geo-routing, is a type of phone routing that allows consumers to dial one phone number to reach the closest local business for that brand. Geo-routing automatically routes phone calls based on the caller's geographic location, making it easy for customers to find you no matter where they are.
If your company serves across many geographical locations, then geo-routing may be a great solution for your business. Geographical routing will ensure that callers can dial one phone number to reach your many locations.
How Does Geo-Routing Work?
Geo-routing uses one phone number to route all calls. Put simply, the caller dials the national toll-free call tracking number with geo-routing enabled, and the call is routed automatically based on the location of the caller by the caller's area code. You can even have calls route by zip code with extension routing. This eliminates multiple call transfers, which creates a bad first impression for the customer.
You are in charge of deciding which areas route to which locations or call centers. It's that simple!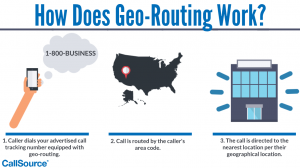 Benefits of Geographical Call Routing
Although geo-routing is an advanced call tracking feature, there are some great benefits to adding it for your multi-location business.
Keep Brand Integrity & Awareness
Businesses with a multi-location or even national presence can use one phone number in national or local ads thanks to geo-routing. This is especially great for businesses that brand with a vanity phone number so that callers can be routed to the location nearest them when dialing an easy-to-remember custom phone number
You can be confident that your callers are reaching the location you want them to be based on where they are.
Discover how to get your own custom vanity number to equip with geo-routing.
Simplify the Call Process
No re-directing or speaking to a bunch of people before getting to the correct location — with geo-routing, all calls to your phone number are automatically redirected. Geo-routing lessens the number of interactions required before they can reach the person that they actually need to speak to.
This way, callers won't have to reach a bunch of representatives who have to manually redirect calls and waste time. Less rings and hold times for callers, and less effort spent on your end.
One Number, Multiple Locations
Whether you want to do a national ad or localized campaign, you can use your number(s) with geo-routing enabled in any of the ads without worrying that it'll direct calls to the wrong place.
You can route calls to the nearest office, call center, or salesperson in that area. One single ad can reach many potential customers, and allow them to call one specific call tracking number.
Localized Reporting
With reporting available to show what areas your callers are coming from, you gain insight into the areas that your ads are most successful in. This allows you to put more marketing dollars into the areas that are performing better, and figure out some tactics to increase leads and sales in lower-performing regions.
Learn how to better manage your calls with our Call Management Guide.
Geo-Route Your Calls
If geo-routing is a solution that your business can benefit from, it's as simple as getting call tracking equipped with geographical routing.
Let us know if you want a call tracking specialist to reach out, or discover our helpful assets to start improving your business today.