A service BDC department for your automotive dealership can help you create better first impressions and set more appointments to sell more cars.
An earlier version of this article was originally published by Digital Dealer Magazine and can be viewed here.
Successful dealerships know their service department is a huge opportunity for more business and to deliver great ROI. An automotive dealership's service department is important to create customer loyalty and bring in repeat customers and buyers.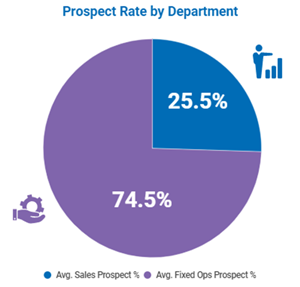 Dealership's service departments continue to grow profits year-over-year. Recent automotive data shows that fixed operations departments make up 75% of all prospect calls to dealerships.
It is clear that your service department is important to your dealership. Dealerships need to focus efforts on improving this department, so it runs as smoothly as possible to get the most customers in your door.
One way that dealerships find success in increasing their service department profit and efficiency is by incorporating a dealership BDC. Is the answer for your dealership a service BDC?
What is a BDC?
A Business Development Center, or BDC, is a group of employees who answer inbound calls and make outbound calls for your dealership.
A BDC consists of a manager and customer service representatives responsible for being customers' initial point of contact and handling the first-touch of the client relationship and appointment setting duties, inbound and outbound.
A BDC is not one rep who becomes responsible for all of these duties. A BDC is not a receptionist who will answer and forward calls to other departments or voicemails. A BDC doesn't have the word "center" in its name for nothing. You need more than one employee to have a real BDC.
Do I Need a Service BDC?
Many dealerships that have a BDC start by having it for their sales department, but these dealerships can find much success by also incorporating a service BDC.
It may seem like an extra responsibility and money for your dealership to add a Service BDC, but when 66% of service advisors fail to ask the customer for an appointment, what would being able to successfully convert those callers into appointments mean for your business?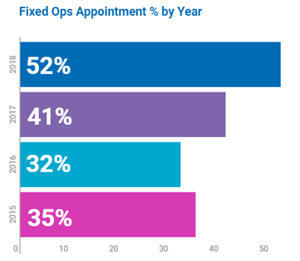 We've touched upon the importance of good call handling many times already, but it bears repeating. Just because someone is calling into your dealership, it does not mean that they have any special loyalty to you yet—and their first impression will be made as soon as that phone starts ringing.
What happens if someone answers with a rushed, distracted tone, is unable to answer the caller's questions, or even worse—no one answers the phone in time, and the caller is either endlessly looped around in a never-ending ring cycle or sent to voicemail?
That caller probably isn't going to put in the time and effort to try to endlessly call your dealership back. It has been found that 76% of people develop a perception of a company's level of customer service based on the initial phone call, and the number of consumers who still leave voicemails for a company has been dropping 8-10% per year since 2008. An unknowledgeable or busy person answering the phone isn't going to leave a good first impression for your service department, and calls to voicemail might as well be written off as lost leads.
This is where a Service BDC comes in to play.
Best Practices on the Phone
There is a lot more to inbound call handling than simply answering the phone and passing it along to the correct department, or asking the necessary information from the caller. Service departments are typically busy, and those that have the skills to service a car don't always necessarily have the customer service skill set to get customers into your dealership.
You want your service department to be busy – that is a good thing. But when they are too busy to put the time and skills necessary into all of the inbound calls coming in (and the busier your service department gets, hopefully, the more inbound calls you are receiving), you aren't going to further your dealership's success. And that is the point, right? You don't want to stay complacent and not make any improvements year over year; you want to grow the business and increase your profits.
Employees in a BDC are specifically trained for skills on the phone. Phone skills vs. in-person skills are different; many great salespeople in your showroom are not equipped to have a successful phone conversation.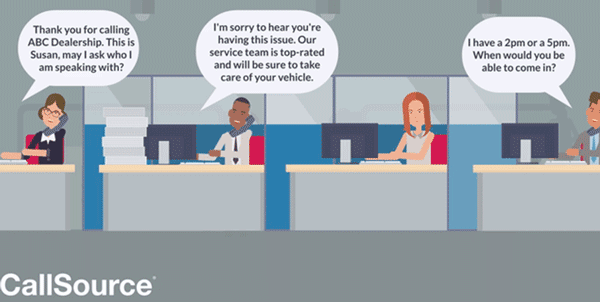 With a service BDC, you will have more effective phone calls by training and coaching employees on phone skills. Not only will you be sure that every phone call is answered, but you can be confident that the conversations on the phone are leading to more client acquisition for your dealership.
Free Up Time for Other Tasks
Think of all that your Service BDC employees would be responsible for.
Answer inbound calls
Answer all caller questions
Set service appointments
Outbound calling to confirm service appointments
Check on parts inventory
Order necessary inventory
Convince caller to set an appointment with your dealership through value statements
Customer follow-up
It is impossible if only one person is responsible for all of these tasks, plus dealing with in-person tasks. A BDC has the time to dedicate their best efforts to make the caller experience the best it can be so that the customer will have a great impression of your business from the first ring all the way through to their actual appointment, and long after.
Automotive BDC Best Practices
To have a successful working BDC, there are best practices that they should follow to book more appointments that lead to revenue for your dealership.
Some basic best practices for your BDC are:
Answer every incoming call
Build rapport with the caller to make a great first impression
Stay in control of the call
Answer the caller's questions appropriately and in a timely manner
Do not transfer calls to voicemail
Do not leave callers on hold too long
Ask for the appointment – at least two times
The ultimate goal of the call handlers in a BDC is to set the appointment – for either a sales or service call – the first time. This gets the caller to commit to coming into your dealership, rather than giving them an opportunity to call your competitor.
Improve your BDC
Whether or not you have a BDC, phone skills are important to sell more cars. With in-person and over-the-phone automotive call coaching that uses your real CRM data for measurement, as well as in-depth data to score call handlers, we are here to help your BDC or salespeople be as successful as they can be. Subscribe to our blog for more insights to help your dealership improve.