Whether your call handlers need improvement, or you want to go from good to great – call coaching can benefit your business.
In your business, your call handlers are a key part of your sales team, whether they realize this or not. They are the first impression of your business, and the weight of setting the appointment – which is obviously crucial in order to make the sale – weighs on their shoulders alone.
Therefore, it is vital that your call handlers are top-performing and employ all of the necessary skills on every phone call to try as best as they possibly can to make that great first impression and earn your company new business.
If your employees' phone skills are important to you, then you may want to consider call coaching. What are some ways that you may decide if call coaching is right for your business?
Consider the following signs that it may be time to begin:
You want employees to develop performance in specific competencies using performance management tools.
You have talented employees who are not meeting expectations or whose performance can be improved (for example, raising appointment setting rates by 10%).
You introduce a new system or program and employees need to achieve certain levels of results using it (for example, recovering missed customer calls).
You have recently hired new staff and need to bring them up to speed with the other call handlers' skills as quickly as possible.

As a CallSource client, how can you use the data that you are already receiving to decide if it is time to be considering call coaching as an additional tool? Here is where to look and what specifically to look at.
Call Conversions
Taking a look at your overall call conversions will give you a good indicator if you should start thinking about applying call coaching for your team. If you are consistently below your conversion goal, or you know that it can be brought higher, there is obviously improvement to be made. Especially if your marketing is working well and bringing in enough leads, you want to ensure that your call handlers are converting those leads into appointments.
But my call handlers sound great when I walk by and hear them on the phone!
It is possible to have employees who are very friendly, polite and helpful on the phone, yet notice that they are not converting as well as you may think they are by just overhearing their side of the conversation. That is because call handlers need to apply some salesperson abilities to their calls. There are particular skills that call handlers must have in order to be successful at their job and reach the ultimate goal on every phone conversation – convert the caller into an appointment.
By viewing your team's call conversions as a group and also on an individual level, you will gain better understanding into their performance. If you notice specific performance gaps with one or a few of your call handers compared to others, that is a red flag that indicates it may be time to implement call coaching. Besides comparing your team to each other, you can also compare your scores to your industry trends and benchmarks, which CallSource supplies.
Ok, I'm listening…so now what?
So how do you know if your call handlers are applying the right skills in order to achieve higher conversion rates? Besides seeing the true results of their conversion rates in CallSource reports, you'll now have to delve a little deeper to see the reasoning behind their low, average, or below average conversion rates. How do you gain this further insight?
Well, besides going in to the system and listening to all of their calls, CallSource's Telephone Performance Analysis Report is another tool at your disposable to utilize in order to determine if your call handlers could improve through call coaching.
Telephone Performance Analysis
CallSource's Telephone Performance Analysis (TPA) report delves deeper into your employees' phone calls to give more details to the overall call experience. TPA scoring is based on CallSource's Four Core Principles: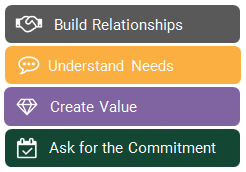 These principles are necessary for call handlers to excel in in order to have a higher rate of appointment setting. If employees are not excelling in one or more of these categories, they are a great candidate for call coaching. CallSource has seen call handlers improve by 20% or more in a specific category after only one or two coaching sessions. But remember, coaching is an ongoing process – unlike training, with coaching employees are not just learning one thing and then applying it; they are continuously working on improving the skills that they have been taught.
But what's most important?
It is possible for an employee to have great TPA scores in one category but be lacking in the other three, or vice versa, or any combination. The truth is that when they start improving in one area, they may create a deficit in another – this is why it is vital that they are continuously being coached on these skills to make them a habit and ultimately apply all of the skills necessary to every call. By seeing where they need help in areas of TPA, you will know what skills they will need to work on in their coaching sessions, and these may change from time to time.
After viewing your employees' current and trending TPA scores, you can decide if signs are pointing to the need for call coaching, and solidify your decision to consider adding this program as an additional tool for your business.