Small businesses can no longer afford to ignore their online review presence.
We've said it before, and it's still true: online reviews are the new word of mouth for new and old local businesses alike.
Online reviews are especially important for small businesses to get their name out there and acquire new customers.
Why are online reviews important for small businesses?
Increased business awareness
When you make sure you have a business listing across all relevant review sites, consumers see your business name out there. Whether consciously or subconsciously, consumers will remember your name associated with the type of business they are looking for, which will increase the relevance of your business in their minds.
Improve local SEO
With increased awareness also comes helping your business's local search engine optimization efforts. When more people are writing relevant things about your business, they are helping attribute pertinent keywords associated with your company and its services.
For example, if someone writes "ABC Plumbing was great and really helped us with our toilet leak," that will help if someone is searching "plumber toilet leak" into Google, causing them to possibly come across your business.
Having reviews on your Google My Business profile especially helps your SEO presence – companies with more review stars and a larger number of reviews will show up higher on the search results page in Google.
Higher sales and revenue
According to a report by Womply Research, businesses that claim their free listings on at least 4 review sites earn 58% more revenue, while businesses that don't claim their listing on any review sites earn 24% less revenue than average. If this statistic alone isn't enough to convince you to make sure your business claims all of its online review profiles, do you even care about your ROI?
But you cannot simply have review profile listings and hope that people will come and leave reviews. It is vital to keep asking customers for reviews and to earn new reviews on an ongoing basis. Womply also shows that businesses with no fresh reviews earn less than 20% on average, while businesses with 25 or more fresh reviews earn 108% more than average.
How responding to reviews impacts small businesses' revenue
This definitely isn't our first time promoting the importance of responding to your business's online reviews, either. It isn't only important for your online reputation but also helps your company earn more customers and ultimately achieve higher revenue.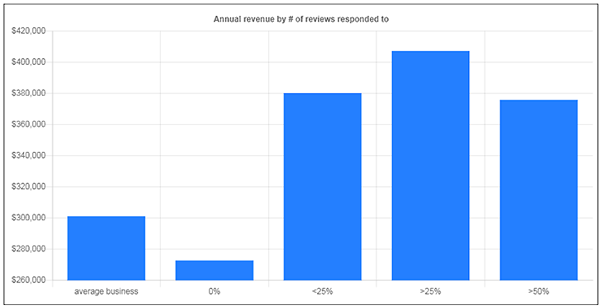 Womply Research shows that people spend up to 49% more money at businesses that reply to reviews and that businesses that reply to more than 25% of their reviews earn 35% more revenue than average.
Their research also states that 75% of businesses don't respond to any of their reviews – so you can really stand out by ensuring to reply to your reviews.
Don't have time to respond to your reviews? Find out how we can do it for you with Respond, Now!
What to do with negative reviews
Although receiving a negative review may hurt your business' ego and isn't ideal, it isn't always necessarily a bad thing to get some negative reviews. In fact, Womply's study shows that businesses whose reviews are 15-20% negative earn 13% more in annual revenue than businesses whose are 5-10% negative, and businesses with a rating between 3.5 and 4.5 stars earn more revenue than any other rating.
Download our free step-by-step checklist on how to respond to negative reviews.
Start earning more by caring about your online review presence
Having an online review presence – and managing it – is no longer just a "nice to have," it's a necessity. CallSource is here to help you manage your business every step of the customer journey, including managing and replying to your online reviews.
With Respond, Now!, our real people will respond to your reviews for you, so you don't have to worry that you are missing any important feedback about your business online.
Take charge of your online reputation

Get CS Reviews

I want to talk to someone about maximizing my online review presence.