An online review presence is still necessary for hearing offices to earn new patients.
When someone mentions hearing aids, people usually think of a product whose consumer-base makes up mostly that of older generations.
This isn't entirely untrue – according to Better Hearing Institute, the average age of first-time hearing aid wearers is close to 70 years of age. Yet, the majority of people with hearing loss are actually below the age of 65, and nearly half of all people with hearing loss are below the age of 55.
Another generalization of older populations is that most of them do not use or do not fully understand how to use the internet.
But is this really true?
Although there are substantial differences in internet and social media use by age, that doesn't mean that those within the age of the prime hearing aid wearers are not online.
Your consumers are using the internet
According to Pew Research Center, roughly nine-in-ten American adults use the internet. This has increased from 52% in early 2000, when Pew first began systematically tracking Americans' internet usage.
Source: Pew Research Center
And while we already know that patient ages vary for those needing hearing aids, even with the oldest age group (those in the 65+ category), at least two-thirds are using the internet.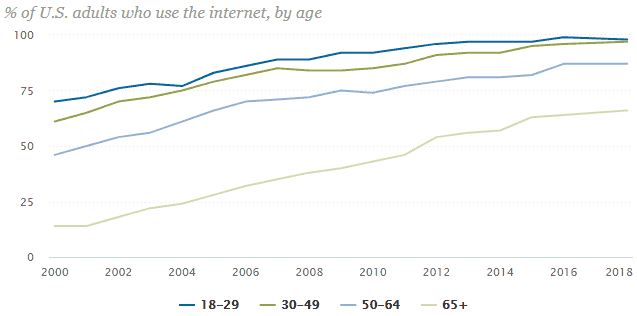 Source: Pew Research Center
Bottom line? Your patients are using the internet, despite what society may think.
But are they reading online reviews?
Well, just because they are using the internet does not mean they are seeking out reviews for my practice, you may be thinking.
Let's take a look.
What is one of the largest and most popular social media platforms that exists?
Facebook, of course.
Do you know how many people over the age of 50 are on Facebook? Over half.
Source: Pew Research Center
And what is something that people can do on your business Facebook page? Leave online reviews.
According to BrightLocal's 2017 Local Consumer Review Survey, 97% of consumers used the internet to find a local business. Just as internet usage has increased every year, so has using the internet to search for businesses. These incremental increases suggest that consumers are looking for local businesses via the internet now more than ever, and this will probably continue to increase.
When asking consumers what types of businesses they read online reviews for, healthcare was the third-most read, at 60%.
Now, when asking which consumer review sites were most trusted for local searches, Facebook came in as the top contender (tied with Yelp) for the most trusted consumer review site in the US.
Taking into consideration consumers who are aged 50+, using Facebook, and trusting online reviews…it is inevitable that a good portion of your patient-base are searching for your practice online and looking for reviews for you.
The takeaway
Don't let the sweeping generalization that older consumers don't use the internet prohibit your hearing practice from staying proactive and ensuring a positive brand impression online through reviews.
The internet has now been here for a while, and it's here to stay.
Start achieving online reviews for your practice and continue to ask for them to keep a great and up-to-date impression to ensure that your practice is here to stay as top in potential patients' minds, too.
Take our fun, 4 question assessment to learn if your current online review management process is up-to-par.
Sources:
http://www.betterhearing.org/sites/default/files/quality_of_life.pdf
http://www.pewinternet.org/fact-sheet/internet-broadband/
http://www.pewinternet.org/2018/03/01/social-media-use-in-2018/
https://www.brightlocal.com/learn/local-consumer-review-survey/#q1