A strong reputation is key to a business's success.
Quick Summary: While it may not generate revenue directly, your company's reputation is the foundation for all of your local word-of-mouth marketing efforts.
Your business reputation is what will build trust and loyalty among customers, and it's also one of the first things that potential customers will take into consideration when deciding whether or not to do business with you.
In this article are a few reasons why your company's reputation matters now more than ever. You can also check out our reputation management tools for businesses here.
What does Reputation Mean?
Reputation is the opinion or view that others have about your business based on their past experiences or interactions with your business. It includes attitudes, beliefs, and behaviors that people associate with you in some way or another.
Usually, customers interact with your staff on the phone, in person, or through a chat.
Your reputation is created over time as people engage with your business in different situations. It is both what you say about yourself and what others say about you—and it has a major impact on the way people interact with you or do business with your company.
Further, it leads to referrals and word-of-mouth business that your past customers generate for you.

Online Reviews Affect Your Bottom Line
Your company's reputation isn't just important from a customer acquisition perspective; it also affects your bottom line in terms of sales as well. A good reputation often leads to higher customer retention rates and more repeat purchases, which translates into more revenue for your business over time.
On the flip side, having a poor reputation can lead to fewer sales and lower customer satisfaction levels — two things that no business wants! But what business wants to constantly monitor its online reputation management by checking website after website?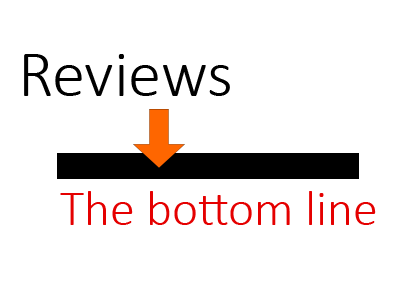 Your Reputation Impacts Your Brand Image
Your company's brand image is incredibly important, as it's one of the main ways you communicate with potential customers and establish trust with them.
Having a good business reputation helps ensure that people view your brand positively and are more likely to engage with what you have to offer — whereas having bad reviews or negative press floating around can negatively affect how people perceive your brand overall.
This is why it's important to keep an eye on what people are saying about your business online and make sure that any negative feedback is addressed promptly and professionally.
Online Reviews are Your Reputation
You cannot expect 100% perfect positive reviews nor would customers think that is an ideal situation.
Customers raise concerns when they see a company's reputation that looks too squeaky clean. Customer concerns keep them from referring your brand to their friends and family.

So What Can You Do About Your Brand's Reputation?
Your company's reputation is in good hands – that's right, yours. If you are reading this article let's assume you care about your company and want to increase your revenue.
Here are some steps you can take to increase your business's reputation:
Monitor the number of customer reviews you are getting.
Check your average customer ratings on review websites (Tip: Google matters a lot).
Make sure you are asking in person for customer reviews (that's reputation management 101).
When you get positive online reviews are you responding as the business? (You should be, responding is a great way to boost your business reputation).
When you get a negative online review are you investigating the issue? (You should be, and also responding to that customer online is a great way to signal you care about your good reputation).
Do not review-gate (asking only happy customers to leave reviews for a good reputation).
Grab our reputation management guide for steps and suggestions.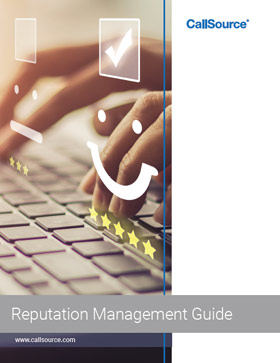 How to know if you have a bad business reputation?
You can determine if your company has a bad reputation pretty quickly.
That can be financial proof of a bad reputation from a decline in sales and leads. A bad reputation could also highlight a decline in customer reviews. If you serve hundreds or thousands of customers only a small percentage will go online and leave a review for your business.
Your business reputation is important. A good reputation for your business is very important to growth. But that is not the only reason that a good reputation matters.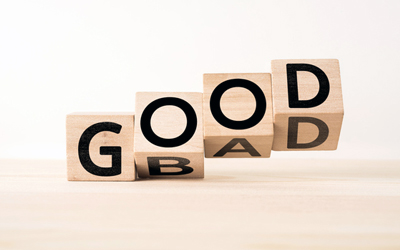 The Benefits of a Good Reputation
A good reputation can be an invaluable asset for any business as it allows them to build trust with their customers and potential customers. A strong reputation can help attract new customers and keep existing ones from leaving or becoming disgruntled.
Additionally, having a positive reputation can help businesses when it comes time to negotiate deals or contracts because it is seen as proof that the company is reliable and trustworthy.
There's an old adage, "Your reputation precedes you." What this means is that your reputation represents who you are and what you stand for. It may be hard to quantify the power of reputation, but it's tangible nonetheless.
A person with a good reputation will be more likely to experience success than someone without one.
Finally, having a good reputation can also help businesses secure financing or capital investments since investors are more likely to back companies with positive reputations.
Examples of Good Business Reputation
What does a good business reputation look like?
A good business reputation should suggest that customers are satisfied with their experience with the business – whether it be through products or services – and would recommend them to others.
For example, if someone writes a review saying "I had such a great experience working with XYZ Company! They were professional and efficient in getting my project done quickly" then this shows that the person was satisfied with their experience with the company and would be willing to recommend them to others.
On the other hand, if someone writes "XYZ Company was unprofessional and slow in completing my project" then this gives an indication that they were unhappy with their experience working with the company and would not recommend them to others.
Good Reputation Benchmarks are Relative
A company might only get a dozen of reviews a year. That might be the same across the industry. So each and every customer review they get is priceless.
Alternatively, a company could get dozens of reviews a day. While that might seem like a lot it does mean that reviews are a great indicator of the seasonality of a business.
A few positive reviews or negative reviews say a lot about the current state of a business.
Having a good reputation as a business is called, "Healthy Reputation Management" and is born out of great customer service and proactive review management.
Local businesses can see anything above a 3-star review (out of 5) as positive. While some may say that only the aggregate review rating matters and as long as it's above a 4-star rating that is good.
Review benchmarks can be relative both to the industry and to the local community your businesses are in.
Great Customer Review Responses
In terms of responding to reviews, it's important that companies thank those who leave positive reviews while showing appreciation for their patronage.
An example response could be something like "Thank you so much for taking the time to write such kind words about our team! We really appreciate your support!"
This type of response demonstrates that ABC Company values its customers which can further enhance its reputation among potential customers as well as within its existing customer base.
Here is an actual response from our team on a 5-star review left for one of our clients (learn more about our Response service here):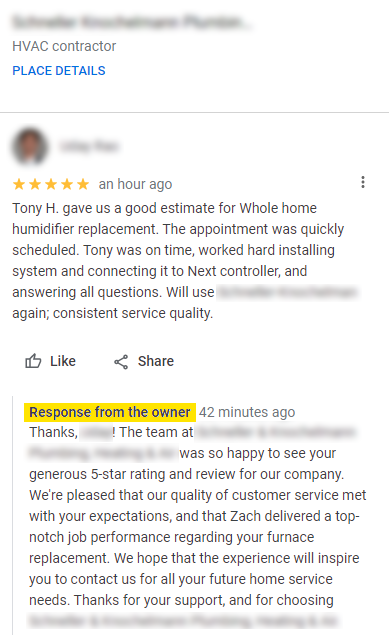 How to Approach Your Online Reputation
One of the best ways to build up your positive reputation is by providing excellent customer service every time someone interacts with your business.
You should also take steps to ensure that all customer feedback—both positive and negative—is addressed promptly and professionally. This will show potential customers that you value them enough to respond quickly to their concerns.
Additionally, make sure that all content posted on social media is high-quality, accurate, relevant, and consistent in order to maintain the integrity of your brand online.
Finally, consider participating in industry events or conferences so you can network with other professionals in your field who may have valuable advice on how to maintain a good reputation going forward.
Be trustworthy – Provide honest information about yourself and your products or services, follow through on promises made to customers, and make sure all customer service issues are handled promptly.
Engage with customers – Respond quickly when someone leaves negative feedback; thank people for leaving positive feedback about your work or products; and show appreciation for those who talk about your brand online.
Keep up with industry trends – Staying current on industry news will help ensure that any changes in market conditions can be addressed quickly; this will also help build credibility with potential customers who may be looking for the latest information available.
Reasons to Build a Positive Reputation for Your Small Business
The reputation of your small business is essential for success. Regardless of how great your products and services are, if you don't have a good reputation, it will be difficult for people to trust you or even learn about what you offer.
A positive reputation can help boost sales because people are more likely to make a purchase when they know the company behind the product has earned their trust.
Your reputation also affects how potential investors view your business. If investors think positively about your small business, then that increases the chances of them investing in it.
This could give your company access to additional capital resources or different partners that could help move the company forward.
Furthermore, having a good reputation makes it easier for businesses to recruit new talent since potential employees want to work for companies with high ratings and reviews from previous employees and industry experts alike.
Grab our impact of reviews on buyer behavior 1-sheet to learn more.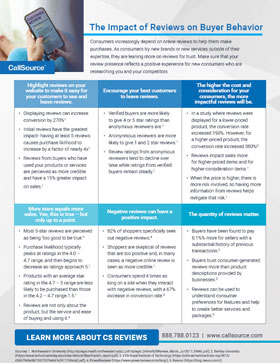 Reputation Management Tips for Small Businesses
Tip #1 – Focus on delivering excellent customer service as this is key to building customer loyalty and trustworthiness – both of which contribute heavily towards establishing a positive image of your brand in the eyes of current and potential customers alike.
Tip #2 – Try leveraging social media platforms such as Yelp and Google My Business; these sites provide potential customers access to reviews from past customers who have interacted with the company before them – making it easier for them to form an opinion on whether or not they should do business with you!
Tip #3 – Reputation management isn't going anywhere. Customers demand to know the brand reputation of the companies they work with. A brand's reputation is now critical for the success of a small business.
Tip #4 – Keep it simple. Building your small business's positive reputation starts by providing excellent customer service. Respond promptly to customer inquiries or complaints, follow up with customers after sales are made, and thank them for their patronage. These simple acts will go a long way toward making customers feel appreciated and valued.
Tip #5 – Encourage reviews. You can encourage customers to leave online reviews for your business by actively seeking out ways to engage with customers through social media channels – it's an effective way to not only build relationships but also increase brand awareness.
Tip #6 – Track customer feedback from review sites so you can identify areas where you may need improvement or have done something right which deserves recognition.
Which Review Sites are Important for Small Businesses?
Your reputation is important but it is not important everywhere. There are industry review websites and there are general review websites. Google My Business and Google Maps is one of the most popular customer review sites for small and local businesses.
The following websites are a handful you might consider tracking your reputation on:
Google Business (Google My Business, Google Maps)
Bing Places for Business
Yelp
Facebook Reviews
Indeed
Superpages
Yahoo! Local
Yellow Pages
BBB Reviews
Doctor.com (Healthcare)
Apartments (Realtors)
OpenTable (Restaurants)
Booking.com (Travel)
Houzz (Home Services)
Home Advisor (Home Services)
Cars.com (Automotive Dealers)
Credit Karma (Financial)
Laywers.com (Attorneys)
…
Here is how monitoring online reviews can look when they are all in one platform (this is our CSReviews platform):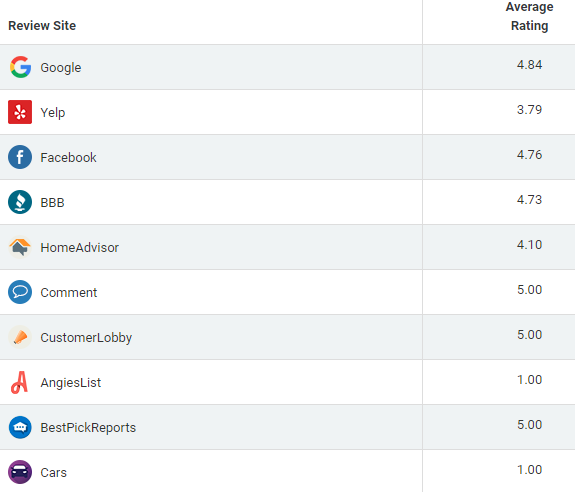 You've Got a Great Rating Online – Now What?
Your reputation is essentially how others perceive you—it's like your personal brand. It's made up of all the experiences people have with your business—both good and bad.
Everything from customer service interactions to online reviews contributes to your company's overall image in the eyes of potential customers.
That's why it's important to build and maintain a positive public perception of your business from the start.
So now you need to maintain your corporate reputation.
Protecting Your Corporate Reputation
It takes time to build a good reputation but only moments for it to be ruined by careless mistakes or malicious behavior on the part of an employee or contractor.
To prevent this from happening, make sure you have clear policies in place that employees must follow when engaging with customers online or offline.
Additionally, monitoring social media posts is also essential to ensure no one is posting anything that could damage your reputation online.
Having procedures in place for dealing with public crises will help as well, so if something does happen that threatens your reputation, you'll know just what steps to take next. A bad reputation can creep up on even the best leaders.
So, why is online reputation management important for small businesses?
At the end of the day, maintaining a positive online reputation is essential for any small business owner who wants their company to succeed in today's competitive marketplace.
By taking steps such as monitoring customer reviews, responding quickly to customer complaints, and investing in quality services like SEO (Search Engine Optimization) or content marketing, you can help ensure that your company has a strong online presence — which will ultimately lead to increased sales down the road!
You should not be spending hours and hours doing this yourself. You should also not have someone spending hours doing this. You can do online reputation management with minimal time investment. Most companies are not killing themselves for a positive reputation.
As we move further into this new era of digital technology, there's never been a better time for businesses both large and small alike to focus on building their reputations and ensuring they remain positive!
Check out our tools that help small businesses with their reputation without having to spend much time at all.