How Local Services Ads work, why they're great for local businesses, and how to optimize your Local Services Ads for better results.
Today's local customer not only seeks convenience on their path to purchase but there is an underlying expectation for it. There are few things more convenient than having the internet at your fingertips to search for a desired product, service, or business at any given time. 
Google is often the first place users begin their online search, with 97% of users searching for businesses located near them. Businesses utilizing Google Local Services Ads as part of their local SEO strategy can benefit from this by increasing their visibility to drive more local sales from highly motivated customers.  
What Are Google Local Services Ads
Google's Local Services Ads are designed to connect customers with local businesses based on their search for your services. These ads are a form of paid advertising that allows service-based businesses to advertise on Google and appear at the top of a potential customer's search results page to generate more reliable leads. 
Local Services Ads are placed above all other search results, including organic results and traditional Google Ads, so businesses using Local Services Ads are the first result people see when searching for local services. Rather than paying per click, your business pays per lead, so you only pay if someone contacts you directly through your ad. 
How Google Local Services Ads Work
If someone in Los Angeles is looking to repair their air conditioner, they'll often search on Google for "Los Angeles air conditioning repair" or "air conditioning repair near me," and the search results will show nearby relevant businesses utilizing Local Services Ads at the very top of the page.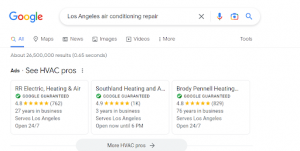 Most consumers will click on the first result that they see, so businesses using Local Services Ads are likely to be contacted over other providers that are less visible. The searcher will be able to see the business's phone number, hours, ratings, and reviews and can contact the business directly from the ad page. 
Prospects are given the option to call, book, or message your business directly through the ad and you only pay if that action step is taken. Since local customers are already looking for the services you offer, it is easy to find your business and connect with you, there is a good chance they will contact your business over other service providers. 
When a user clicks on your ad, Google will prompt them to confirm the specific service they are looking for and their service area, ensuring that potential customers are connected to the right business. 
If your business is the right fit for the job, the user will be able to reach out to you, and if you are not, Google will direct the user to a Local Services Ad that better matches their needs. This means your business can focus on quality leads, and waste less time on inquiries that won't convert. 
When a customer contacts your business, you'll receive an email and notification from the Local Services Ads app (if you have it downloaded on your mobile device, if not, here is a link to the Application in the Google Play Store for Android devices and a link to the Application in the Apple Store for Apple devices). You are able to respond to messages, track bookings, and manage your leads online or through the Google Local Services app.
The Benefits of Google Local Services Ads
Pay per lead instead of per click
Pay-per-click ads require you to pay every time your ad is clicked on, even if a lead is not a match for your business. With Local Services Ads, you only pay for valid leads you receive so you know your marketing budget is going towards leads that are likely to convert.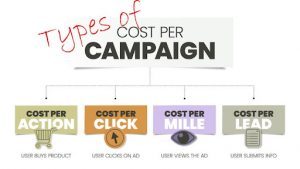 Only pay for qualified leads
You can dispute unqualified leads that weren't the right fit for your business and get your money back. This saves your business the expense of invalid leads and gives you more control of your ad spending. 
Be at the top of search results
Almost a third of all local searches result in a purchase, so you want to be the first business a local customer sees when searching for your services. Appearing at the very top of Google's search results with a Local Services Ad will attract motivated customers who want to do business with you. 
Build trust in your community
Customers favor businesses that have been vetted and are highly rated. You can use Local Services Ads to increase your local customer base by being the most used, reviewed, and trusted in your area. 
Google Guarantee: The Badge of Trust
Searchers will see a 'Google Guarantee' badge with a green checkmark next to Local Services listings. This indicates that a business has passed a Google screening and verification process and is a Google Guaranteed provider, reassuring users that Google prequalifies the business. 
The Google Guarantee provides protection to customers who booked a job through Local Services Ads and are unsatisfied with the service they received. Unhappy customers are able to submit a claim to Google within 30 days of the initial service completion date to be reimbursed for the amount of their invoice, with a lifetime cap of $2,000. 
A Google Guarantee checkmark gives potential customers confidence in your reliability, making them more inclined to want to do business with you. It's a win-win situation. 
Setting Up Google Local Services Ads
Does it sound like your business could benefit from Local Services Ads? Below are the steps to set them up. 
Step #1 – Confirm your Business's Eligibility 
Local Services Ads are available to a variety of businesses within specific service categories and regions. Click here to check if your business is eligible to use Local Services Ads based on your business type and location.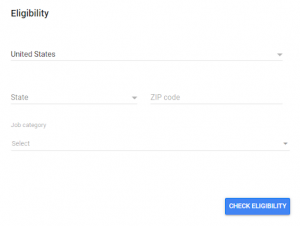 Step #2 – Create your Business Profile 
After checking your eligibility and being approved to participate, you'll be prompted to begin the onboarding process by creating an account with a chosen email and a profile for your business. You will fill out basic information about the services you provide and the areas that you service.
From your business profile, you can manage the following: 
Your job types
Your service areas
Your business hours
Your weekly budget
Your business profile will determine the jobs that are matched to your ad, so you'll want to be sure that you ONLY include the services that your business offers, is licensed/qualified to complete, and the areas you can service.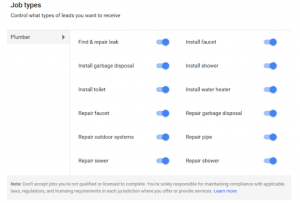 Step #3 – License and Insurance Checks
Google requires that your business passes its license and insurance checks before you begin running your Local Services Ad. This is part of the Google Guarantee process and ensures that you are fully licensed, up-to-date, and insured so that Google can cover you.
Depending on your business category and location, this process can vary. You can check the specific requirements for your business here. 
Step #4 – Background Check
Background checks for businesses in the U.S. and Canada are required but can vary by business category and location. The business, the business owner, and field workers are required to complete a background check before being able to enter a customer's home or workplace for a job. You do not need to pay for these background checks, and you can learn more about the background check process here. 
Managing Your Local Services Ads Budget
Once you've successfully set up your business profile, you are ready to advertise and start receiving leads. You are in control of the number of new leads you want to receive every week based on the budget that works best for your business. You can increase or reduce your budget anytime, or pause your ads entirely. 
Since you are charged per lead with Local Services Ads, your chosen budget will determine how many leads you will receive weekly. You'll work with an average weekly budget, your target spend, and a monthly max (the max you will spend a month). 
You may spend more or less than your average weekly budget some weeks, but you can count on never spending more than your monthly max. Once your monthly max is reached, your ad will not be visible for the rest of the month unless you adjust your weekly budget.
It is important to remember that you are in complete control of your spending and can adjust your budget as often as you want. A reasonable budget that does not overextend your business but is enough to generate a fair amount of leads is a good starting point, and you can increase it as you see results. 
If you want Google to recommend a budget for you based on how many leads you'd like to receive each month, click here to get an estimated budget.
Managing Your Leads
Your business will receive leads either as inbound calls or a message request through your Local Services Ads. 
You can manage new leads either through the Local Services Ads mobile app or the 'Leads' section of your account on your desktop, and you will receive new lead notifications both through the app and via email. 
It is best practice to review and follow up with leads as soon as you receive them. You are able to do this within the 'Leads' section and filter through each lead's individual details including the job type and location. You can follow up with new leads by replying via message (email or text message), calling them, or declining their job request. Once you respond to a new lead, the lead becomes "active" and will be in the "active" inbox along with all other leads you have interacted with in the past 15 days. 
New leads are marked as "new" for 15 days and then moved into the inactive inbox if they go unanswered. Although you can still respond to an inactive lead, failing to respond to your leads quickly can affect your ad's search ranking and decrease the number of leads you receive. 
This is crucial to note not only because you want your business to be known for your responsive service, but if you take too long to respond back to an interested customer, you may lose the opportunity entirely. 
In order to maintain an organized dashboard, you must manage your leads by marking them correctly. Leads that aren't a fit for your business should be archived so your dashboard isn't cluttered with unqualified leads that don't need your attention. Marking your leads as booked helps you keep track of your bookings, and receive customer reviews from completed jobs.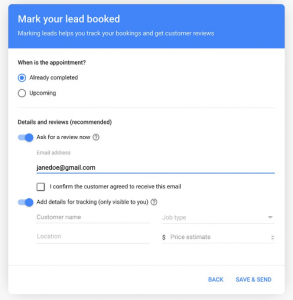 If you don't want to take time out of your day to handle this process on your own, you can use a service like CallSource's Local Services Ad Lead Management service to manage your Local Services Ads leads for you. 
Disputing Invalid Leads
One of the greatest benefits of advertising with Local Services Ads is that you can save your business from spending on inadequate leads. Your business should only pay for leads that are related to your business or the services you offer, and if this isn't the case, you can dispute an invalid lead. 
Google charges you for each valid that you receive through your Local Services Ad and counts towards your budget. A valid lead is generated from a text message, email, voicemail, phone call, or booking request from an interested customer. There are a number of reasons why a lead can be considered invalid and disputed for a credit.
Below are Google's approved categories for invalid leads: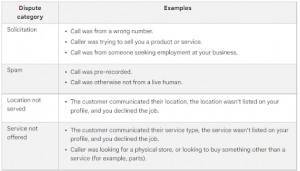 You have 30 days to dispute an invalid lead charge, so combing through your dashboard often is key in making sure you catch invalid leads timely. Google will listen to the call recording to ensure that one of the approved categories applies to the invalid lead and if your disputed lead is approved, you'll receive credits to your account balance within 40 days. 
If you aren't regularly checking your leads and disputing invalid leads, your marketing dollars are being misspent on leads that aren't bringing you business. You can take the time to dispute invalid leads yourself or your business can leverage a service like CallSource's Local Services Ads Lead Dispute service and offload the process completely.
Ad Ranking Factors
All Local Services listings are displayed based on their ranking. Below are the factors that Google considers when ranking your ad.
#1 – Verification status: Google Screened or Google Guarantee 
Having a badge of trust is a crucial factor in your ad ranking. Businesses with these badges will always rank higher than those who do not have them.
#2 – Your bid
Google prefers providers that are willing to pay more per lead. Businesses that set their bid mode to "Maximize Leads," will typically get more leads from Google than providers that don't. 
#3 – Your responsiveness to customers
Google wants businesses to respond to inquiries and requests as quickly as they receive them. Failing to respond promptly will lower your ad rank and customer satisfaction. 
#4 – Relevancy to customer's search 
Your business should be highly relevant to the customer's search, including: 
The services provided by your business 
Your business bio
Your closeness to customers
#5 – Profile Quality: Rating and reviews
The number of reviews you have, your review score, and how well you manage your reviews are all taken into account for your ad ranking. 
Ways to Improve Your Local Services Ads Performance
Improve Your Ad Ranking With Customer Reviews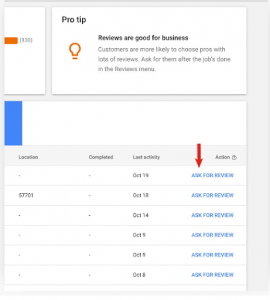 You can directly ask customers to leave a review through the "Reviews" tab of your LSA dashboard.
Reviews matter to Google, so they should matter to your business! Prioritizing customer reviews builds brand loyalty and increases your ad rank so you can reach more customers. Your ranking is impacted by your star ratings and the number of reviews you have, so the more and merrier, the better.  
According to a Bright Local LSA click study, review ratings are the biggest contributing factor to clicks on Local Services Ads, and businesses with significantly higher review ratings receive more clicks. This is a clear indication that consumers want to do business with brands they can trust and turn to reviews for confirmation. Since customers rely on feedback from those who have tried and tested your services, your business should always encourage customers to leave a review. 
Additional Ways to Optimize Your Local Services Ads Performance
In addition to encouraging customer reviews, below are Google's best practices for optimizing your Local Services Ads:
Expand your job types and service areas
Maximize leads with a bidding strategy 
Use high-quality ad photos 
Opt-in to new features 
You've Made it This Far…
If you've read this all the way through, it's likely your business utilizes Google Local Services Ads or you are ready to leverage the platform. 
Whether you gained new insight to spruce up your listing and performance, learned how easy and cost-effective Local Services Ads are to grow your local business, or realized you need a service to manage and dispute your Local Services Ads leads, CallSource is here to help. 
If you're ready to optimize your Google Local Services Ads leads and make the most of your marketing, contact a CallSource specialist to get started.